Charity Begins At Home
supports education, wildlife, land conservation, infrastructure and health programs impacting South Luangwa, Zambia. It is the charitable arm of The Bushcamp Company, a National Geographic award-winning safari lodge also located in South Luangwa. Donations from U.S. residents are collected through Friends of Charity Begins At Home, a 501(c)(3) registered charity, and distributed to responsible local organizations in South Luangwa that support the people, wildlife and sustainability of the region.
Health

It costs $7,000 USD to dig a borehole that can provide clean water to an entire community for generations.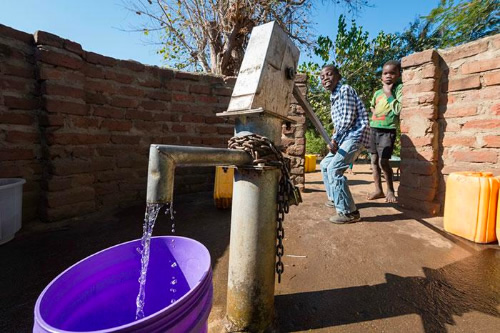 It is estimated that, in Africa alone, over 345 million people are without access to clean water.
Through borehole drilling, health education, and better access to medical support, Charity Begins At Home is helping improve many of the health services that most people would take for granted.
Commit to Clean Water Fund
Drilling boreholes for community access to clean, safe water

One borehole costs around $7,000 to construct, but benefits thousands of community members for generations
HIV and AIDS Training
Kakumbi HIV & AIDS Nutritional Support Project

HIV & AIDS education community theater projects
Kakumbi Community Clinic
Long term funding for staffing, services and emergency response for the only rural medical health center in the region
Donate Now
Charity Begins At Home donations go a long way:
$25
Helps feed a student through the Meal-A-Day Program
$50
Pays for an anti-snaring day patrol
$100
Pays for 50 seedlings for tree-planting
$250
Pays for fees, books, uniform and shoes for one student for a year
$500
Pays for the drugs needed to de-snare an elephant
$1000
Pays for a rural student who boards at secondary school for a year
$7000
Drills one borehole for clean drinking water for thousands